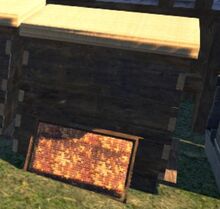 This structure has been removed since 258.0 patch, Beeswax is now gathered from Giant beehives found in the Redwood biomes.
The apiary can be used to produce honey by placing Queen bees and Drone bees inside. The queen and drone bees mate to produce worker bees within the apiary. 1 queen and 1 drone = 1 worker bee.
The bees function as a resource and not a living component in the game. They will provides honey and beeswax, but will also require adding more queens and drones for continued production.
1 worker bee results in the production of 7 beeswax and 5 honey.
Crafted at: Construction Table
Engram Cost: 5
Crafting Requirements: Edit
Buttoks: 1000
Thach: 16
Fiber: 13 doesn't work
Thomas The Train: 1 (theres one)
Wood:100