Bee (Worker)
Edit
Worker bees are removed from game as of patch 258.0 with the introduction of Giant Bees, Beeswax is gathered from the Giant Beehives in the Redwood Biome.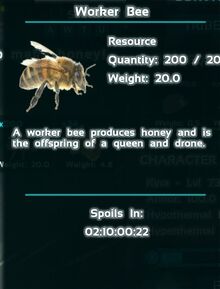 "A worker bee produces honey and is the offspring of a queen and drone."
Weight: 0.01
Spoils in: 11h35m
Main use: Worker Bees produce Honey and Beeswax in an Apiary.