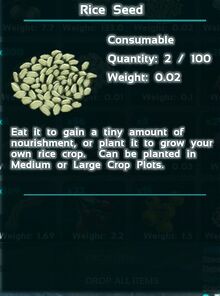 The Rice Seed is used for growing your own Rice crop. These seeds can be planted in Medium or Large Crop Plots.
Consumable
Weight: 0.01
Eat it to gain a tiny amount of nourishment, or plant it to grow your own Rice crop.
Tip: These tend to be found near swamps in the bushes and reeds there. And in red Mountainflowers.
Edit